Lighting Upgrades for Non-residential Buildings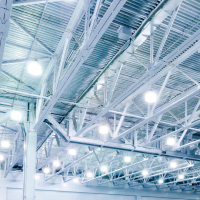 Emerald's Energy Services provides lighting surveys, technical assistance with project development, and incentives to encourage building owners and operators to make the switch to more efficient lighting systems. Our program offers rebates for projects that reduce the annual energy consumption of existing lighting systems by at least 25 percent.
Save money every month by increasing the efficiency of your lighting system
Improve lighting quality and controls in your work space
Enhance outside lighting conditions for improved security
Existing building retrofit options
New construction options
Print Brochure
Incentive Information
Emerald can work with you and/or your contractor to identify opportunities to save energy in your lighting system. Available rebates are based on the Bonneville Power Administration (BPA) Lighting Calculator 5.0 customized for use in Emerald's service territory. Incentives are limited to 50% of a project's eligible upgrade costs. A completed lighting calculator is required for all projects and Emerald staff is available to help. See Program Details for examples of common rebates.
Incentive Information
Examples of rebates for common upgrades:

Convert 60W incandescent can fixture to qualified 15W LED
• $5/fixture not to exceed 50% of upgrade cost

Convert 4-lamp F32T8 fixture to qualified 18W LED tubes
• $2/tube not to exceed 50% of upgrade cost

Convert 4-lamp F32T8 fixture to qualified 32 LED fixture
• $40/fixture not to exceed 50% of upgrade cost

Convert 250W exterior HID to qualified 100W LED lamp/fixture
• $120/fixture not to exceed 50% of upgrade cost

Convert 400W high-bay HID to qualified 130W LED fixture
• $240/fixture not to exceed 50% of upgrade cost

Incentives are based on BPA's Lighting Calculator. Incentives cannot exceed 50% of total project cost.
Eligibility
• Building occupied by an active Emerald customer served by a non-residential rate schedule.
• Participant is authorized to make improvements.
• All applicable permits must be obtained to qualify for rebates. All hazardous materials associated with the project must be properly disposed of in accordance with federal, state, and local laws.
• Measure eligibility is based on the BPA list of incentives for lighting retrofits.
• Lighting equipment must meet BPA and Emerald standards.
Requirements
• Projects must be submitted on BPA Commercial/Industrial Lighting Calculator 5.0. Refer to Trade Ally Northwest for contractors skilled in lighting retrofit or new construction design.
• A complete and signed Incentive Application is required for each new incentive project.
• Participant authorizes Emerald to conduct quality inspections to ensure program specifications are followed.
Steps to Participate
We can help you identify savings opportunities, find qualified contractors, and ensure compliance with program requirements.
1. Confirm eligibility for your program by contacting Emerald's Energy Services. Emerald will schedule a FREE lighting assessment to confirm program eligibility.
2. Contact a contractor or vendor from Trade Ally Northwest to develop a lighting project proposal. Emerald will work with you or your vendor to develop the required lighting calculator.
3. Customer will receive a rebate proposal from Emerald or the contractor describing energy savings, incentives, project payback, return on investment, and total project cost. Note: Project proposals are estimations and may vary.
4. Submit project incentive application to Emerald prior to beginning work to ensure incentive availability.
5. Upon project completion the contractor or customer will notify Emerald and provide all paid invoices and other documentation associated with the project.
6. Emerald will conduct a final inspection of the project to verify the project and compliance with the proposal. The rebate will be processed once the inspection is completed.
Irrigation Hardware Upgrades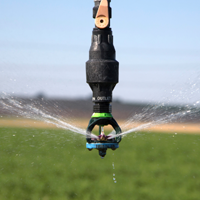 Small sprinkler leaks can waste up to 10 gallons of water per minute. Replacing leaking sprinklers, gaskets, pipe and other worn equipment and reducing friction losses in piping saves water and energy, and replacing sprinklers every five years helps to ensure system efficiency.
Upgrading to more efficient irrigation hardware improves irrigation system performance and results in improved uniformity. These improvements make it possible to meet crop water needs with fewer hours of irrigation and therefore less energy use.
Water-efficient irrigation hardware is designed to minimize water waste and maximize water application to the benefit of the crop. The ideal application of water is in an amount that meets the need of the growing plant and avoids extended soil saturation and runoff. By increasing application precision and reducing unneeded applications, water can be conserved and energy can be saved.
Incentive Information
Rebates for Irrigation Hardware Upgrades are available up to 70% of the cost of the individual measure. Please refer to the Application for Rebate for details on what types of products are covered. Conservation measures must be installed at a permanent location served by an Emerald PUD meter.
Steps to Participate
1. Purchase and install the qualifying irrigation system components.
2. Complete, sign, and submit this Application for Rebate. Provide supporting receipts/invoices for all qualifying equipment. Receipt must list brand, model number, or other identifying information. Also submit a unique pump ID number or other method of identifying site of installed measures (field location, meter number, GPS coordinates, farm name, etc.)
3. Mail the Rebate Application and Customer Invoices, within 90 days of purchase, to:
Emerald Energy Services
33733 Seavey Loop Road
Eugene, OR, 97405
4. Your application will be processed within 30 days. Your site may be subject to inspection to verify installation of equipment receiving a rebate from Emerald.